---
Lighting tips to help set the perfect ambience in your kitchen, the living- and the bed room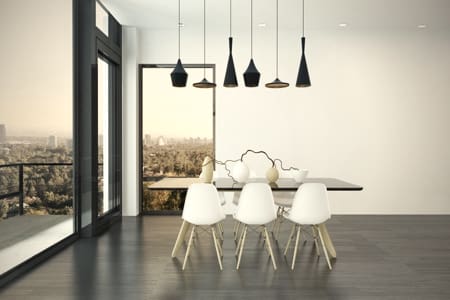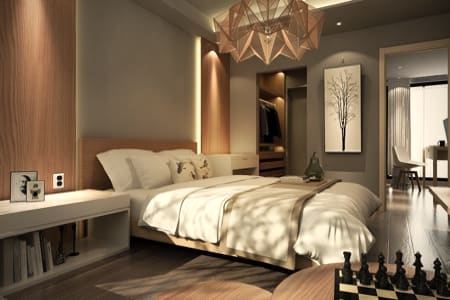 Living room lighting
Where to put lamps in my living room? – A question we have been asked many times by customers who like to create a "Zen" like atmosphere in their living room. To give the best advice, there are a number of dependencies to be considered, such as size of the living room, color of walls and floor as well as the location of power sockets. With that in mind, there are three simple ways how we create the perfect lighting ambience for your cozy living room:
1.) Place a lamp with a "warm" light next to your sofa, so that the light is shining subtly into the room.
2.) The most common setting in a living room is having a TV facing the sofa. Placing a second lamp with a "warm" light right next to the TV, will not only create the ideal balance between the two lamps in the room but will also help to soothe your eyes when watching your favorite movies or series.
3.) Understanding how lighting can affect the mood is essential when it comes to creating a comfortable yet practical lighting environment. Whilst the previous tips create the cozy and warm atmosphere, we need to add ceiling lights to get your dinner party started and keep the guests awake. Spot lights embedded in your ceiling can be very effective. For rooms with high ceilings we recommend pendant lights or hanging bulbs which add a touch of elegance to the room's overall appearance.
Bedroom lighting
The bedroom is the sanctuary of your home and choosing lamps which create a calm atmosphere and fit purpose is as important as selecting a comfortable mattress for a restful sleep. So what are the best lamps for bedside tables?
Wooden table lamps for example are the ideal choice for your bedside table. The color and appearance of wood has a calming effect on people and helps to create a cozy bedroom. A great alternative to that are table lamps made from oxidized copper. The color, green which is reflected in this material, relates to balance and harmony. It is also known that the color green helps restore depleted energy, another great reason to consider this next to your bedside.
Kitchen lighting
Very often people have a good idea on how to create a pleasing atmosphere in spaces like the bed room or the living room. But which lighting is best for kitchens? Well, it has to be practical and provide sufficient light, so that one can still see what is happening in the kitchen and not get hurt by accident whilst preparing the family dinner.
Yet, one would not want the light to be too prominent either, which quite often is the case with new kitchens which have many embedded spot lights alongside hanging cabinets. A great solution can be a combination of spots for practicality and hanging vintage bulbs or pendant lights for elegance and style. Mounted above a kitchen island or above the walking aisle of a kitchen, they are a definite eye-catcher.